Mountain Hare Tour (one day)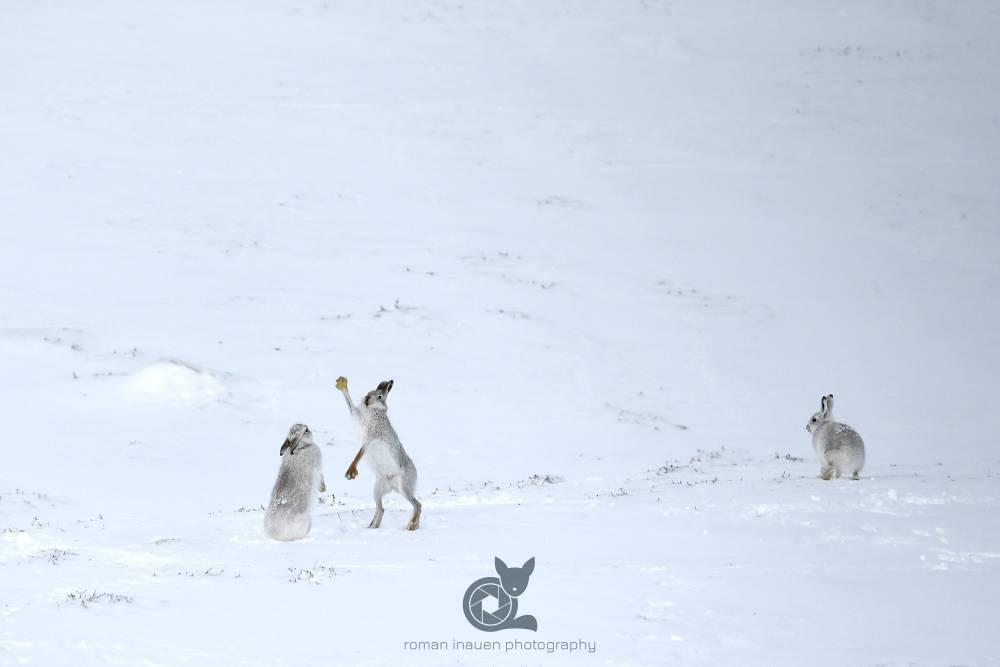 This Photography tour is especially attractive during the winter season. The hares' have white fur during this time period, enabling us to take high key photographs, due to the snow's contrast. The snow hares's pairing season is from February to March. With a bit of luck, one can observe the hares during their box fights, or as they chase one another over the snowy landscape.
Where
There are three suitable areas I know of where one can observe and photograph these fascinating creatures. Two of these places are located in central Scotland and one is close to the Caingorms National Park. We can either meet up at Dall Lodge, Killin or directly on site. This tour complements the "Ptarmigan Tour" very well.
Recommended Equipment
The ideal equipment for this given tour is a camera with a telephoto lens (a focal length of 300 to 600 mm). The extended focal length will help you photograph the rather shy animals from a greater distance. Spare batteries, memory cards, warm and waterproof clothes and shoes, headwear, waterproof gloves, waterproof protection for your backpack, camera and lens(es) are highly recommended. As the tour will be an entire day, you will have to take something to eat and drink along. In case you own a tripod and/or a bean bag, I would take them along as well.
What to expect
We will be photographing mountain hares in the Scottish Highlands. The windy, cold climates call for warm clothing. The conditions may also be wet. The hike up the mountain can go anywhere from 10 minutes to an hour depending on the location and snow conditions. Longer tours call for proper hiking boots and a certain endurance. Although finding snow hares is practically guaranteed, if in the unfortunate event that we are not able to find any, a second tour will be offered free of charge.
Dates & Availability
I'm very sorry but there are no dates available for this tour right now. Please contact me if you are interested to arrange a date.
The dates above don't suit you or you'd like a special tour? Please feel free to send an enquiry using the form further down on this site. I'll be happy to help and see what I can do.
Group Size
2 People
Although the tours capacity has it's limits, I'll be happy to see if I can arrange something if you are a group bigger than the maximum capacity or if you have any other requests.
Accommodation
Overnight stays are not included but can be arranged by request.
Cost
£150.00 Per tour and person
Included is:
A day of expert guidance around mountain hares and their natural environment.
The drive from Killin, Dall Lodge Country House (or regional pick-ups depending on the arrangement) to the tour's location, in a 4x4 vehicle and back.
Information about the animals and their natural habitat.
Guidance on how to optimally search for – and approach the animals in order to take photographs.
Photography equipment, if you cannot bring everything you will need (depending on arrangement).
Not included in the price:
liability insurance,
meals and drinks
Enquiry for Mountain Hare Tour (one day)